silent performative drawing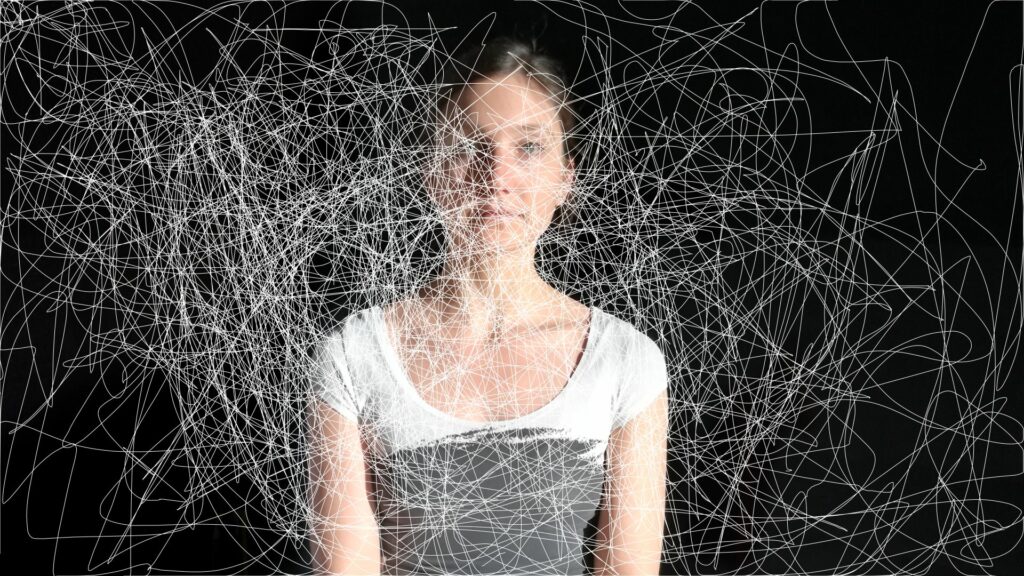 Silent Drawing at Treffpunkt Speech(Less) is a drawing performance called "silent drawing" because only the gesture on a tablet is visible during the dance performance and not the drawing. The graphic artist is seated among the audience and draws on the tablet on his lap. It is after the dance performance, through a replay of the gestures captured on the tablet, that the drawing becomes visible to the audience, as shown in this video. It is then projected in the room outside the performance room, and can be watched by the spectators after the show before they leave the place.
The theme of the dance performance Treffpunkt Speech(Less) (Annika Kompart choreographer (DK) / Efva Lilja (SE), Georgia Kapodistria (CR), Nanna Hanfgarn Jensen (DK), and Annika Kompart (DE) dancers) is to show how dancers can improvise on the energy of the political speech. Each dancer dances on a broadcasted discourse of a politician in her own language. In addition, Annika joins each dancer by the end of her performance to experience the difference between dancing on one's mother tongue (the dancer she joins) and a dancing on a non-native language (herself). At some times, sound art by Lola Ajima substitutes textile sound to the speech and highlights the rhythm of the speech by merging the motion of the dancers and the sound it produces as a mirror of the voice energy.
The Silent Drawing performance, is a mediumic artwork prolonging the echo of the dancers to the speeches, through a live drawing controlled by their body dynamics. The graphic artist acts as a medium of what he perceives. He tries to act at a subconscious level and not to involve expressivity, intentions, evaluation… The drawings are intentionally hidden during the dance performance, to avoid visual feedback and aesthetic considerations. They are performed on a graphic tablet and recorded through a computer program. They are a recording of the dance, with space and time encoded, as Paul Klee's "active line on a walk, moving freely, without goal". The drawings are replayed off-stage, when the show is over. Their replay above a background static bust picture of the dancer inverses the relationship between dance and drawing, in which the digital drawing, as a memory of the dance, can re-stage the performance of the dancer made static. It acts in a similar way as comments in media can give a second life to a political speech afterwards. It also provides a kind of signature of the dancer, and how her interpretation, even if as neutral as possible with respect to the meaning of the speech, however reveals her own dancer's "DNA", and provides clues about her sensitivity, her body, her age and her gender, her culture and her deep pulsion… but of course, it also reveals what the graphic artist could capture of it, for similar reasons, as some kind of second hand echo to the speech.
Category: silent performative drawing at a dance performance
Treffpunkt Speech(Less) is a dance performance by Annika KompArt presented at Baadteatret, Copenhagen (DK), 19-23 January 2019.
 
Dancers: Efva Lilja (SE) Georgia Kapodistria (CR) Nanna Hanfgarn Jensen (DK) Annika Kompart (DK)
Sound design: Lola Ajima (DK)
Silent performative drawing: Yukao Nagemi (FR)
Digital graphics: Porphyrograph